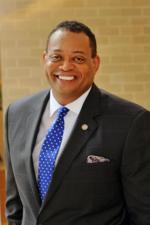 Philip Bell
-President, Steel Manufacturers Association
Philip K. Bell is President of the Steel Manufacturers Association (SMA), which represents 30 North American steel producers and 120 associate member companies across the U.S., Canada, and Mexico, accounting for over 75% of domestic steel production, and employing over 60,000 people. The SMA serves as the voice of the North American Electric Arc Furnace (EAF) steel industry.
Prior to leading the SMA, Phil served as Director of External Communications and Public Affairs for Gerdau Long Steel North America, based in Tampa. He developed an interest in the steel industry and manufacturing in the late 1980's, while serving as an operations supervisor at Elementis Chromium, in Corpus Christi, Texas. He has held executive level positions in operations, human resources and public affairs with Gerdau, the SGL Carbon Group, and Qualitech Steel Corporation.
Mr. Bell currently serves on the U.S. Department of Commerce International Trade Advisory Committee on Steel (ITAC 12), advising the Secretary of Commerce and United States Trade Representative on trade policy, agreements, and other trade-related matters.
Phil is a graduate of Texas A&M University, and holds a master's degree in Global Strategic Communications from the University of Florida. Phil and his wife, Linda, reside in Washington, D.C.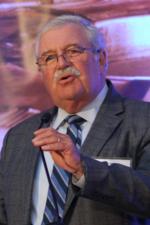 David Phelps
-Former President, American Institute for International Steel
Mr. Phelps came to the American Institute for International Steel (AIIS) in 1996, and retired at the end of 2013. He currently resides in both Northern Virginia and The Villages, in central Florida, while participating in Platts-SBB steel training seminars and planning for the annual Tampa Steel Conference. He remains active in the never-ending debate on steel protectionism as a consultant on international steel trade. He also is involved in a local Catholic school as a substitute teacher and volunteers at a Hospice in central Florida.
As president at AIIS he was responsible for helping AIIS fulfill its mission to support free trade and economic growth through competition in the steel trade, and to oppose protectionist barriers to trade, including tariffs, non-tariff barriers and subsidies. Prior to joining AIIS, Mr. Phelps worked as a customs and steel products consultant. He was also an officer at the American Iron and Steel Institute (AISI) for nearly 15 years. His areas of responsibility were customs, transportation, and public policy issues affecting steel market development programs. Mr. Phelps holds an M.A. in economics from Virginia Polytechnical Institute and a B.S. in economics from George Mason University, in Virginia.
Jo Isenberg-O'Loughlin
-Editor Emeritus, American Institute for International Steel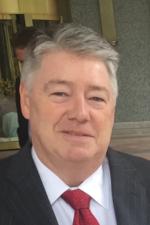 John Anton
-Director, Steel Analytics, Pricing and Purchasing, IHS Markit
John Anton is the Steel Director of the IHS Pricing and Purchasing Service. The outlook for steel prices is formed by close monitoring of the industry and contact with executives at steel makers and end users. In addition to producing regular forecasts of steel production, demand and price, Mr. Anton is also responsible for managing the IHS relationship with major steel buyers involved in automotive, energy and pipeline companies, retailers, and manufacturing. Clients are located in the United States, Japan, India, East Asia, and Europe.
Mr. Anton joined IHS and its predecessors in 1995. Prior to that time, he was in the private practice of law, specializing in small business representation and in criminal defense work. Before attending law school, Mr. Anton worked at the Bureau of Labor Statistics as an Economist/Statistician.
Regularly provides steel industry analysis to magazines and dailies such as American Metal Market, China Daily, Steel Market Update, Investor's Business Daily, Pittsburgh Post-Gazette, Bloomberg, and Engineering News Record.
Richard Chriss
- President and International Trade Counsel, American Institute for International Steel